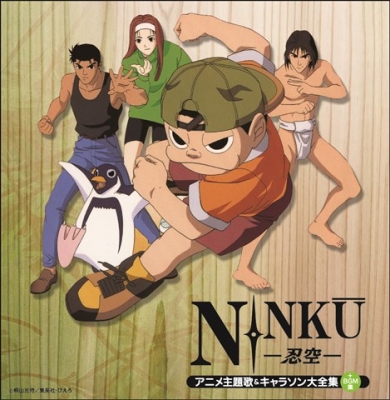 Original name: 決定盤「NINKU-忍空-」アニメ主題歌&キャラソン大全集(+BGM集)
Series Composer: Yusuke Honma
OP and ED theme artist: Yume Suzuki
Release date: February 17, 2016
Catalog number: PCCK-20123
Description: Re-released complete soundtrack for TV anime series Ninku.
Disc 1 contains opening and ending themes and BGM tracks.
Disc 2 contains character songs from the main voice actors.
DISC 1:
1. 輝きは君の中に
2. それでも明日はやってくる
3. 空の名前
4. それぞれの明日へ
5. 輝きは君の中に (オリジナルカラオケ)
6. それでも明日はやってくる (オリジナルカラオケ)
7. 空の名前 (オリジナルカラオケ)
8. それぞれの明日へ (オリジナルカラオケ)
9. 風の如く 風助
10. 戦い その行方
11. 酉忍! 藍朓
12. 巳忍! 橙次
13. むなしさの果てに見えた影
14. ペンギン
15. 午忍! 黄純
16. 殺戮の真意
17. 終焉の拳
18. 新たなる旅立ち
DISC 2:
1. 友達になるか?
2. 強くなれるから…
3. 変わること変わらないこと
4. 空と大地と風があればもう僕は何も怖くない
5. セスナに乗って
6. デベッ!?
7. Who's sweet girl?(風水ガール)
8. 孤独の蜃気楼
9. 俺とお前
10. 十二支数え歌
11. こころハラペコ
12. 新しい世界へ
13. 季節はずれの空
14. デベデベ!!!
15. 忍空絵かき唄
16. 絆(きずな)
17. 月光のレクイエム
18. Let's DEBE
19. 好きといいなさい
Last Modified: June 26, 2017